The Provincial Archives of New Brunswick  will make a unique contribution to this celebration of Irish Canadian heritage by sending over  two complimentary and unique exhibitions.

"An Honourable Independence," is an exhibit illustrating Irish-NB migration and settlement patterns between 1815 and 1855 and provides detail on the experiences and contributions of Irish immigrants to NB.
The exhibit includes historical photographs and documents drawn from the extensive holdings of the Provincial Archives of New Brunswick (PANB).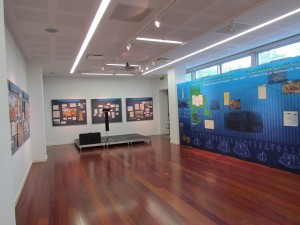 The exhibit complements an existing PANB exhibit, "In the Wake of Dark Passage" dealing with the Irish Famine and Famine migration. Together, the exhibits are a comprehensive and detailed exploration and documentation of the Irish immigrant story in early New Brunswick, a province with over thirty-eight percent of its population of Irish descent.
"Dark Passage" is exhibited annually at The Miramichi Irish Festival, the Johnville Picnic, and the Stanley Fall Fair and is featured each year at St. Patrick's Day commemorations at PANB or in other NB communities
The complementary exhibits "An Honourable Independence" and "Dark Passage" touch on many curriculum themes such a human dignity/rights, contributions of groups and cultures to society, interdependence of groups within society and with the environment, and impact of decisions of government.
"Dark Passage" has been featured by the Irish Society and PANB at a number of provincial functions, including a formal dinner to honour the President of Ireland, the Irish Studies conference,  the Saint John commemoration of the 150th Anniversary of the Great Irish Famine in 1997, the NB Dept. of Transportation annual meeting, the annual meeting of Associates of PANB, and at all three NB venues for the Jeannie Johnston Visit.